The Journey Within is the Adventure of a Lifetime.
What is the Journey of Life really all about?
Journeys are designed for individuals on a Spiritual Journey of profound awareness and higher consciousness. Working intimately with the natural and ethereal worlds, you will deepen your understanding of what is true and real, connecting to your truth and the teachings and knowing of the web of life that surrounds us. The experience is strongly encouraged for healers of all levels, students and practitioners of healing modalities and individuals desiring freedom to be who they are here to be! No previous experience required, except an open mind, a knowing there is more and a willingness to release wounds and beliefs that no longer serve you in your Soul's evolution and that of Humanity.
To be of service to humanity is to be connected to, to be one with the Natural World.
Individual Journeys in Spain are available for July - October of 2019.
You may overlap with others. Pets warmly embraced.
Contact Liza for more information liza@imaginaconsulting.com
"My individualized journey with Liza has been a true blessing with so many magical moments! I came with a strong belief that I don't have any childhood memories. I not only remembered but relived my childhood! I now feel like I reconnected to so much power that was missing in my life. I feel more whole and accepting of my light and my dark sides.
I also came wanting to shine my light more. And I'm absolutely amazed at how much light I feel in myself now! So I'm ready to shine my light and share it with the world! Thank you Liza! Love you my Fairy God Mother!"
"I will never forget the experience and all it taught me. There is now an undeniable strength within me, a knowing that I am supported, guided and protected by nature and my ancestral spirits. I will never be the same after that journey and I look forward to continuing on this path." ~ Marilyn Proulx
"From beginning to end, I felt like I had come home to a special place. The surrounding natural landscape is beautifully restorative. All you hear is the sound of the wind and the birds singing. The workshops brought new clarity to old issues. I found a safe place and healed parts of my soul that needed some mending."
~ Eliza Swain, Las Viborillas beach and restaurant in Benalmadena
"Follow your soul, it knows the way."
"I had an amazing time and am replenished in both body and soul. Thank you!"
"I freed myself of old faults and anger. I released the chains that oppressed me, I rediscovered myself and the source of my love and my strength. Deep THANKS." ~ Victoria Tango
"Do it, it will change your life! The one week journey to the sacred olive farm was the setting for an unforgettable transformation."
"If you are being called here, follow the call!"
"Liza is a Shamama, an amazing blend of intuition, divine feminine, shamanism, and profound knowing of what is. I came because I had lost my dream, my strength and vulnerability. This experience including meditation, different processes, art, nature, and ancestral energy all within the context of a nurturing, natural environment allowed me to see my life with new eyes and to access that part of myself that wanted to come out. I feel joy and gratitude to be reconnected to myself. If you are being called here, follow the call!"~ Supriya Jost
"It is an understatement to say it was life-changing. This is an amazing, amazing, beautiful and nourishing location for this kind of work. You should just bring yourself there and be open to what can happen. If you feel called at all, listen!"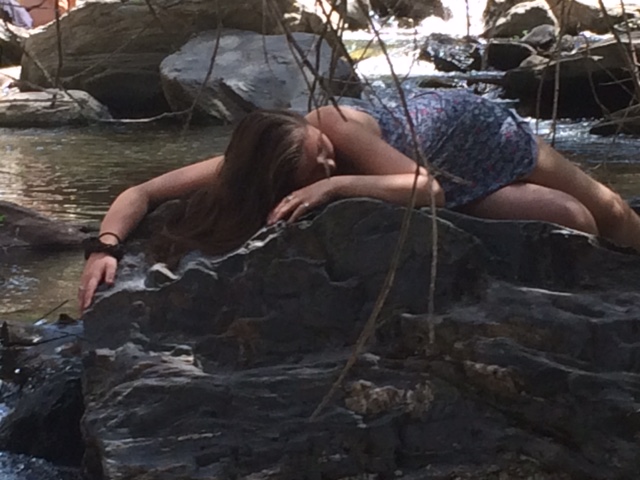 "By the end of my experience in Spain, my spirit had been revived. I got to listen and care for different parts of myself and gained inspiration for what my next step in the life would be."
Past Events
If you are interested in a Collaboration with Liza, please contact her at liza@imaginaconsulting.com
Summer 2018
This is an awakening experience. An opportunity to truly delve into you. To immerse yourself in the intense healing powers of Southern Spain where the energies from above merge with the energies of the Earth creating profound connection and healing. Let go of that which no longer serves you. Awaken to your true reality, the unimaginable support and guidance within and around you at all times. Become You.
Each experience is tailored to your individual growth and needs. Minimum 5 day commitment at the Sanctuary includes room and nourishment.
Community of Spirit
With Liza Pullman and George Zarnowski
To be in the Community of Spirit is to be one with our natural world. It is to immerse in the appreciation of life, to let go, to stand back and gain perspective of our Journey. The Community is inseparable from Nature, with the spirits of the land, mountains, air, fire and water working in unison to renew your awareness of belonging. Allow yourself to become who you already are! And, to invoke the healing capabilities you already have within. Rediscover you. Find yourself enough to live a complete and healthy life. In the Community of Spirit you will return home to the sense of freedom, the oneness you have long desired.
Experiences: Meditations, Energizing Yoga, Explorations with Nature, Mindfulness and Spiritual Awareness, Excursions, Circles, Enlightening Talks, Healing Sessions, Walks/Hikes, and Time for Reflection & Integration.
Calendar: April 13 - May 4th, 2018
Irresistible Sacred Journey
with Liza Pullman and Nicola Fernandes
The Irresistible Sacred Journey is the second collaboration between shaman Nicola Fernandes and Imagina. The Irresistible Sacred Journey is a powerful week long intensive immersion in personal development and higher consciousness. The Journey is designed for people who have begun their Journey, but crave depth and higher connection. This remarkable experience includes Seven Steps to Lightness and Clarity, Four Steps to Wholeness, Journeying to Recharge and Align, Wandering Majestic Granada, exploring Magnificent Alhambra, Immersing in Sacromonte Abadia, Succumbing to the Tranquility of an Opulent Arab Hammam, Connecting to the Natural Cycle of Life, the Earth, the Sun, the Moon and Stars, Nurturing your Body with Delicious Home Cooked Meals prepared by a Spanish Chef and Residing in Community with Kindred Spirits in a Peaceful, Tranquil, Beautiful Spanish Casa on a Thriving Olive Farm in Andalusia, Spain.
October 22nd, 2017 to October 29th, 2017
Inner Goddess Journey
with Liza Pullman and Nicola Fernandes
April 22nd to April 29th, 2017